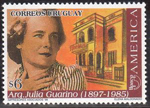 Giulia Guarino was born in Eboli in 1897. She was a worldwide figure, symbol of women's emancipation and of women's rights. At a very young age she emigrated with her family to Uruguay where she gained a degree in 1923, becoming the first woman architect in Uruguay and in all of Latin America. She was a designer, university professor and a Ministerial Official. Because of her importance as a symbol of women's emancipation, on the centenary of her birth, Uruguay dedicated a post stamp to her. The city of Montevideo also paid tribute to her dedicate her a street: "Arq. Julia Guarino Fiechter".
Giulia Guarino was born in Eboli on the 17th of July, 1897. Her father was a veterinarian and moved to Uruguay with all his family. Giulia grew up and graduated there in 1923 becoming the first woman architect in Uruguay and all of latin america.
It was clear that she loved her job and she was one of the best in her profession which led her to travel the world. She travelled to Italy where she met some of her distant relatives. She worked for the Public Works as vice-president. Giulia Guarino was the founder and leader of the association of women graduates in the University, deepening the study of public health, social welfare, cultural life, international understanding for the protection of female workers, representing Uruguay and Peru at a congress held in Paris the same year, splitting into a series of conferences held in the auditorium of the University along with other brave women
In one of her interventions on (Mundo Operaio) in 1958, she declared: "In my life there is something more, what I consider the most important. The three children of my brother were left without a mother, and so became mine. I take care of them as my own children and they love me like they really are. Them, with their children, have filled this house. This is my main triumph and encloses my happiness".